Managed SOC is one of the most effective solutions to safeguard your company and ensure compliance with cybersecurity standards. It may solve a wide range of security concerns, such as monitoring operations, incident response, and compliance needs. It may also help safeguard your firm from identity theft. There are several advantages to employing managed SOC services, whether you are a Fortune 500 corporation or a small business.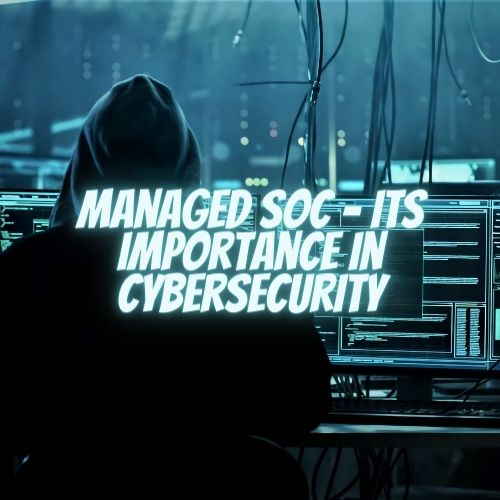 Monitoring activity
Monitoring activities in a managed SOC for cybersecurity enables proactive defense against cyber attacks. SOCs provide a consolidated view of security infrastructure, enabling them to spot problems before they become serious and costly. They may also assist in the restoration of networks after an event by deleting malicious software, wiping endpoints, reconfiguring systems, or even deploying backups to avoid ransomware. Finally, these services may help to create client trust by keeping them informed and protected.
When a breach is found, the SOC analyzes it and utilizes log data to identify what caused it. However, since cybercriminals are continually improving their tools and strategies, SOCs must strive for ongoing development. This includes developing a Security Road Map as well as hands-on procedures such as red and purple teaming.
Because SOCs rely heavily on the expertise and abilities of individual cybersecurity team members, management must guarantee that workers get continual training. Managers should also stay up to date on new threats, cybersecurity incident reports, and vulnerabilities. Furthermore, they should be developing operational procedures that provide SOCs with total visibility across the organization. They should also gather and analyze data as often as possible, and as their firm expands, they should establish more flexible and scalable systems.
The fundamental goal of SOCs is to detect danger. To discover dangers, they gather and analyze data from an organization's IT infrastructure. They also contribute to incident response. The SOC team can contain and terminate the danger before it does any harm by examining data and alarms. This is particularly true when dealing with sophisticated threats.
In addition, the SOC team conducts a forensic investigation and defensive development. It develops an incident response strategy and maintains it up to date with fresh information. A SOC also performs incident recovery, which assists businesses in recovering from compromised data by reconfiguring, altering, or backing up systems. SOCs also offer compliance maintenance to verify that the firm complies with organizational and regulatory obligations.
SOCs keep an eye out for unusual activities on the Internet. To identify cyber dangers, they blend human and computer intelligence. With the rise of cyber attacks, businesses of all sizes must protect their technological assets. Many businesses, however, lack the means to employ a full-time IT security staff. The smart answer is to collaborate with a security operations center.
Incident response
Managed security services are critical to every business's cybersecurity strategy in today's environment. By triaging and researching new risks, SOCs assist firms in detecting, mitigating, and responding to attacks. In addition, the SOC team detects and stops new threats from entering the organization's network.
Establishing the command structure and accountability for a given event is the first stage in executing an incident response strategy. The software should also provide instructions for what to do in certain event circumstances. To ensure that everyone is on the same page, test these ideas with the rest of the company before executing them.
Following that, a managed SOC must detect risks and react to occurrences in a timely and effective manner. A SOC can secure a company's digital assets by using contextualized investigative methodologies and responding quickly. To do so, a mature SOC must have access to historical data and be able to query data from throughout the business rapidly and correctly. This assists the SOC team in enriching the threat tale and correlating incident occurrences with previous data.
Monitoring for disruptions in apps and services may also be part of incident response. The objective is to keep the company running while minimizing downtime. A rapid reaction to an emergency might be the difference between a small mishap and a huge calamity. A competent response to an issue may defend a company's reputation and prevent customer or staff loss.
Incident response teams assist businesses in reviewing their IT systems and developing Incident Response Plans (IRPs). They also watch for security situations and initiate first reaction procedures. They may also visit the site to assist an in-house incident response team. They may do forensic analysis and assist the in-house team with the early reaction phases.
Incident response teams are critical to an organization's security. To secure a company's digital assets, they collaborate with other cyber security specialists. These teams are often made up of persons from several departments and with varying organizational positions.
Compliance requirements
The requirement for conformity is at an all-time high in today's era of surveillance capitalism. It not only helps to safeguard a company's image but also aids in the establishment of a solid security posture. It is basically required for enterprises that provide services.
Whether a business chooses an in-house or outsourced SOC, the remediation procedure is critical. A SOC can avoid security breaches by continuously monitoring for vulnerabilities. It also detects and prevents potential dangers before they become major problems. The key to SOC 2 compliance is a proactive approach to cybersecurity.
Compliance requirements for managed SOC in cybersecurity are becoming more critical as businesses attempt to secure the private information of their consumers. SOC 2, for example, focuses on system and data security and mandates firms to adopt access restrictions and multi-factor authentication. It also necessitates the implementation of security measures at both the front and back ends of information systems. Furthermore, strong password rules and firewalls aid in data security.
A SOC must also monitor and record security flaws, fixes, and other compliance concerns. In addition, the correct SOC must have experienced people, preferably in-house, who are certified in several certification frameworks such as SOC2, PCI, and FFIEC. To top it all off, a managed SOC must have a clear service level agreement or SLA.
The restricted skill pool might make compliance requirements for managed SOC in cybersecurity more difficult. Cybersecurity specialists are in great demand globally, and it isn't simple to establish an in-house solution. Additionally, turnover in a security group might impair the security of the company. Furthermore, government and industry rules are continually changing, which the SOC must monitor to maintain compliance. Maintaining compliance with these standards is crucial to an organization's reputation.
While SOC teams are mainly responsible for monitoring and reporting on client systems, they should also take on defensive development responsibilities. This involves creating an incident response strategy that will be updated when new information becomes available. Another important role is incident recovery, which seeks to restore corrupted data. System reconfiguration, upgrading, and backup are all part of the process. Education and training for the SOC team and the firm are part of compliance maintenance. Additional features include reverse engineering, network telemetry, and forensic analysis.
Human element
Understanding the human factor is critical in cybersecurity. A SOC cannot operate properly without it. Humans must detect and respond to suspicious activity. They must also seek to detect and reduce the dangers of a cyber event. Fortunately, the human aspect is becoming more important as cybersecurity experts recognize its relevance. This article discusses the advantages of managed SOC in cybersecurity, as well as the function of the human element in SOC.
While the human factor is critical to cybersecurity, it is sometimes disregarded in this increasingly digital society. With the development of artificial intelligence and machine learning (AI), it is easy to lose sight of the importance of humans. However, proper networking necessitates putting people first. Managed SOC may improve cybersecurity and reduce risk by employing the human element.
Managed SOCs should have enhanced security automation capabilities in addition to human talents. These technologies may assist security analysts in expanding their analytical capabilities and identifying new risks. Furthermore, these tools must be capable of machine learning and anomaly detection. These technologies may assist cybersecurity teams in focusing on unexpected signals and preventing a compromise.
Questionnaires were utilized in the research to collect information regarding SOC development and implementation. The surveys addressed human, process, and technological aspects. The findings were examined in order to design an effective SOC deployment and development model. The concept was created to assist enterprises in developing a managed SOC that fits their requirements.
Another research discovered that good cyber defenses need cooperation between persons, procedures, and technology. Seven of the eleven researchers polled said that ongoing development is essential. SOC must adapt and develop to remain competitive as technology evolves and the type of threats changes.
Without the human element, a managed SOC cannot work successfully. While technology is critical to SOC performance, it will not assist if workers are inadequately trained or lack the necessary skills. A controlled SOC will become inefficient and ineffectual without method and structure.
The post Managed SOC – Its Importance in Cybersecurity appeared first on https://davidmorrismp.co.uk
The post Managed SOC – Its Importance in Cybersecurity appeared first on https://gqcentral.co.uk