Video is part of the marketing strategy mix for 81% of companies
Are you looking for a cost-effective way to market your business or a client's?  Is a client looking at you funny when you mention "storytelling"?  Are your clients annoyed that you're prioritizing video and a YouTube channel in your marketing stack?  Check out these simple marketing trends to support your decision to emphasize video in your marketing mix.
It's an easy call, really.
81% of businesses are now using video for marketing.
Videos are amazing for getting all kinds of messages across, and when we think in terms of practicality, a short, unique explainer video can make a big difference when it comes to educating people about the ins and outs of your specific product.
Video marketing success in 2018 is at an all-time high. It's not surprising to see more companies than in the past looking to include video content as part of their digital marketing strategy.
In fact, 83% of marketers believe video is becoming increasingly important, which is a sign that more brands are using it as part of their digital marketing strategy.
YouTube tips for business marketing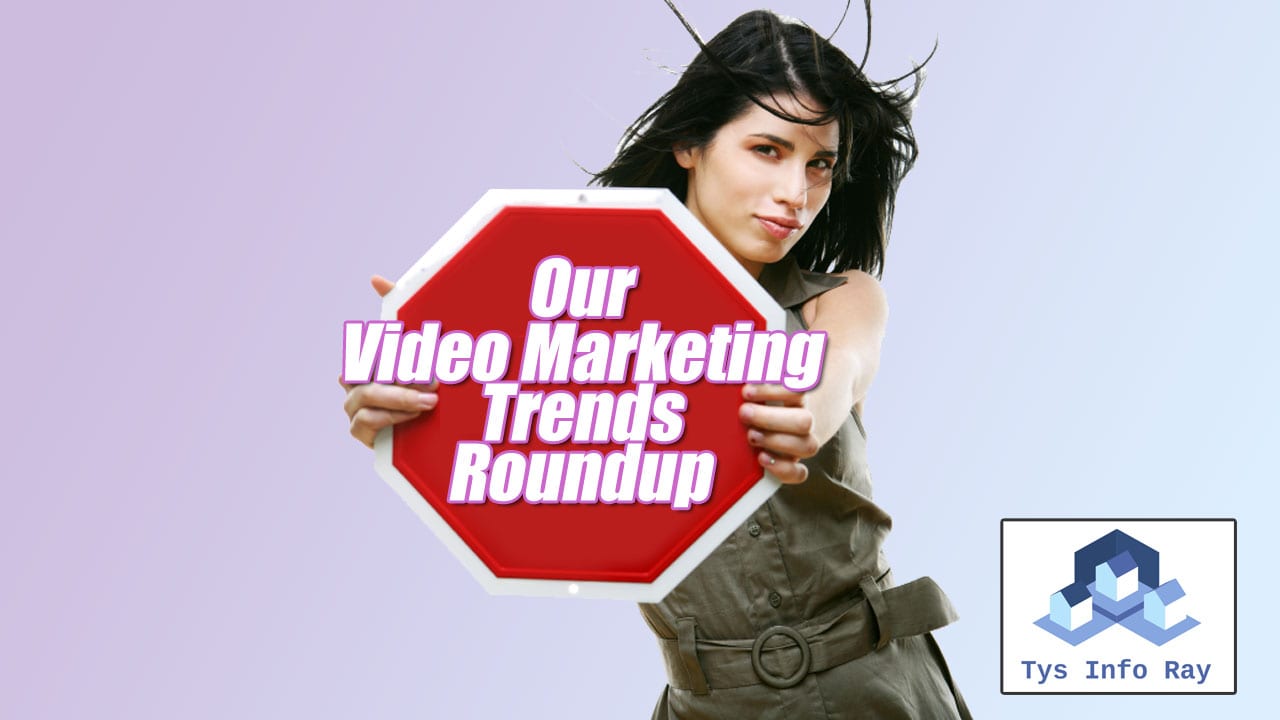 The ultimate YouTube video marketing guide for business owners in 2020 Click to tweet. Are you using youtube to build your audience and promote your business?
Embedding articles on your business's blog gives them more meat and value.
Video marketers and ROI: 89% are happy with their strategies
91% of marketers are satisfied with the ROI of their video marketing efforts on social media.
Many marketers find it difficult to track the ROI of their video campaigns, but this is often the result of poorly developed strategies and incorrect goal setting.
In fact, 88% of marketers are satisfied with the ROI of their social media video marketing efforts.
More than 500 million people watch Facebook videos every day
More than 500 million people watch videos on Facebook, Instagram reports more than 400 million daily active Stories users worldwide, and YouTube uploads 72 hours of video every 60 seconds.
People are five times more likely to watch videos on Facebook from their cell phones. On average, Facebook generates more than 8,000 million daily visits to video content, which equates to more than 100 million hours of video per day.
That's right, 500 million people on Facebook watch videos daily, and 10 billion watch them on Snapchat!
75% of Instagram users take action after seeing a video ad
46% of users take action after watching a video. When users enjoy video ads, their purchase intent increases by 97%.
And for good reason. 65% of an ad's impressions on Instagram come from videos. Plus, 3 out of 4 Instagram users take action after seeing a brand's video.
82% of Twitter users primarily watch video content on the platform
Of Twitter users watch video content. Let's dive into the top video marketing trends in 2019! Video marketing is a fun and effective way to answer your target audience's questions.
This social platform has more users than older sites like Linkedin, Pinterest, and even Twitter. Video content is not on the rise and is clearly a powerful force for user engagement.
After all, one-third of online activity is spent watching video, and 82% of Twitter users watch video content on Twitter.
Pinterest users are 2. 6 times more likely to make a purchase after viewing video content from brands on the platform.
The global video streaming market was estimated at $42.60 billion in 2019.
Today, the global video game market is estimated at over $93 billion. The industry-wide adoption of high-definition graphics during the seventh generation of consoles has greatly increased the size of development teams and reduced the number of high-budget, high-value titles in development.
The following YouTube marketing tips will help you promote your explainer videos in a way that gets your business going in the right direction.
Pay attention to video title and description
It's all about creating a short, high-quality video, optimizing your YouTube SEO strategy (by paying special attention to headlines, thumbnails, descriptions, keywords, and branding assets on your channel) and adding a few marketing tactics (like call-to-actions and ads), and then being social.
Meaningfully used content and keywords work as tricks and tactics – optimize your video description with highly searched words, use tags and hashtags in the titles, and everything else on the backend when adding more information so you can easily grab search engine attention.
Who uses video marketing?
Youtube affiliate marketing is creating a channel and video content on Youtube with the goal of selling other people's products. When you make sales, you get a commission from the company whose products you sold. The main advantage of monetizing your YouTube channel with affiliate marketing is that you don't have to create your own products, you just have to sell other people's products. Also, you can start selling affiliate products right away, whereas with YouTube monetization you need to have at least 10,000 channel views before you can monetize.
Video marketing has grown exponentially over the years. Every minute, more than 1 billion three hundred million hours of video content is uploaded to the YouTube platform, and one of the most staggering statistics about online video consumption amounts to nearly 5 billion hours of video content watched daily. On Facebook, 100 million hours of video content are viewed daily.
On Instagram, 95 million photos and videos are uploaded daily. On Pinterest, there were 6x as many video views on the platform in 2019 as in 2018. Tiktok, whose main content type is videos, has amassed over 500 million monthly active users in a short period of time. This social platform has more users than older sites like LinkedIn, Pinterest, and even Twitter.
Important statistics when considering video for B2B marketing.
There are several ways to approach marketing for a brand to a niche community, and they are all outlined in the report so you can take the path that best fits your brand, budget and skill level.
Verizon customer promotions for gamification incentives, free to customers. The report also explains why targeting niche communities like this can be valuable.
Even if relatively few people in your brand's target audience are video gamers, for example, reaching them with specific video game content creates tremendous brand loyalty. It can turn people in that community from customers to fans. This is something that is immensely powerful, and the way to tap into it is relatively simple.
Benefits of video marketing
It only makes sense that before we get into how you can grow your channel, we go into why you should. There are a lot of great benefits to marketing on YouTube that many businesses don't fully consider. The first one is almost self-explanatory. Video is huge right now.
It dominates the world of marketing, and if you're not using video, you're almost certainly going to lose out to your competitors. That's not an exaggeration; with video ranking higher on all social platforms and performing well in ads, customers are more likely to notice and respond to businesses that use video.
According to Optinmonster, video marketers receive 66% more qualified leads per year (Optinmonster, 2019). Optinmonster also found that video marketers achieve a 54% increase in brand awareness. In addition, 93% of marketers say they gained a new customer thanks to a video on social media. This increased quality of leads can be attributed to the quality of education that a video brings.
Should your small business use video on social media? Regardless of how experienced you are with video production or video marketing, the answer is yes.
Using videos to promote your product or service on social media is a great way to get your brand in front of the right eyes. Read on to discover the best platforms to support your video marketing efforts. 5 Actionable Tips to Improve Emails with Video.
48% of consumers want videos to reflect what interests them
Not only are videos entertaining, but they can also be an important part of a consumer's decision-making process. However, to get a customer to convert after watching a video, you need to make sure you meet their expectations. In terms of the ideal features consumers look for in order for videos to be valuable to their decision-making process, 48% want videos to reflect the specific products and services they own or are interested in.
Another 43% want interactivity and the ability to choose what information they want to see and when they want to see it.
Marketers have debated for years about how long videos should be. It was often said that shorter videos work better due to consumers' decreasing attention spans. However, the downside of shorter videos is that it doesn't allow brands to build too deep of a relationship with their audience.
Videos that are 15 minutes or longer result in 50% audience engagement. You may not see as many views, but those who watch your video from start to finish are most likely genuinely interested in what you have to say.
In the past, older generations may have turned on their favorite TV sitcom or gone to the movies to escape the stress of everyday life. While platforms have changed as younger consumers take over the video market, the instinctual need for relaxing or entertaining content hasn't changed.
When asked why consumers watch video content, YouTube survey respondents said they watch videos primarily to "relax and unwind." " In addition, the fourth most common reason people watch videos is that the content makes them laugh. Respondents also cited "makes me forget the world around me" as the seventh most common reason for watching videos.
There's no point in creating video content if you're not telling your story. Video content allows you to be more expressive, so don't hold back.
Storytelling takes the connection you both have to another level. It's like you're dating your audience individually and sharing your experiences with them. But what exact stories can you share? Storytelling takes many forms.
The post Our Video Marketing Trends Roundup appeared first on Tys Info Ray.
The Article Our Video Marketing Trends Roundup First Appeared ON
: https://gqcentral.co.uk