Managed threat response (MDR) services include numerous essential components. These include detection, intelligence gathering, incident response, and operational impact minimization. The critical components of MDR services are listed below. When selecting an excellent MDR service, consider the resources and access required. Detecting threats and flagging potential security events are critical to maximising the effectiveness of the MDR service.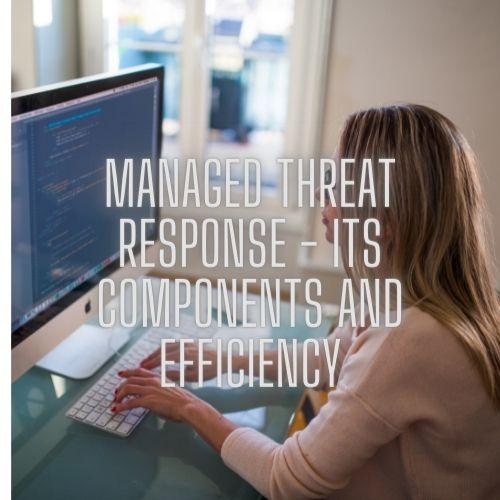 Detecting threats
MDR security combines attack detection with incident response and remediation to reduce the effect of a cyberattack. Your IT assets are constantly monitored and safeguarded using MDR. The managed services include proactive cyber threat intelligence and world-class researchers that hunt down new threats and build creative solutions.
research. In addition, they develop advanced real-time detection algorithms to detect and mitigate cyber threats. This is the ultimate goal of any corporation that wants to safeguard its data assets.
Unlike traditional security solutions, managed detection and response (MDR) enables businesses to monitor, detect, and respond 24 hours a day, seven days a week. In addition to real-time threat detection, human incident investigation experts and automated technologies are frequently used to supplement these services. A managed detection and response service provider provides various remote response services, including threat hunting and mitigation, system upgrades, and compliance. It can deliver instant value while reducing the requirement for additional security personnel.
Managed detection and response companies can stay up with the latest threats by utilising AI, forensic tools, and managed detection and response services. They can use their skills to detect dangers, preserve data, and assure compliance with this new technology. Managed detection and response services are highly adaptable to meet your specific business requirements, removing the need for vendor lock-in and ensuring a secure environment. Threat detection is a crucial role of CSIRT teams, and managed threat response services can assist you in meeting these goals.
Intelligence gathering
Threat intelligence is information that assists security leaders in understanding threats and their TTP. Security executives may prioritise weaknesses, reinforce existing defences, and prevent new threats from spreading by gathering intelligence. The collection process is ongoing and complex. This article describes the crucial phases in gathering intelligence for controlled threat response. How to Begin: Gather information. Identify and collect all pertinent threat information, including recent occurrences and incidents.
Finally, the cyber event we have been waiting for. https://t.co/hLrNszQQp9
August 9, 2022 — Kevin Beaumont (@GossiTheDog)
To begin, identify the dangers and their sources. Internal information on breaches and attacks provides the most acceptable intelligence. Furthermore, gathering threat intelligence from the same industry or business function as your organisation is critical. Managed security services are another essential threat intelligence source because they collect and report intelligence from actual events. These reports can be used as training materials to notify a company's board of directors about security issues.
MDR is a service that ensures the security of your information systems. As a result, your SOC can monitor the environment to detect and respond to cyber-attacks. The solution combines automatic threat detection with human intelligence to defend your business. The MDR service from Open Systems filters the noise and identifies dangers by analysing context log data from many systems.
Reacting to occurrences
Effective incident response necessitates the rapid identification and reaction to threats and IRPs. Most teams cannot respond to all warnings in real-time, and incidents may be ignored, causing considerable damage. This is why incident response teams employ playbooks and scripts that team members can use to ensure that the correct response process is followed. They direct responders and systems to take specific measures to limit potential damage.
Once the occurrence has been established, a plan for informing relevant security personnel, legal counsel, and stakeholders must be implemented. Once the project is completed, the security team can investigate any unusual activity and determine the attacker's goals. All evidence obtained throughout this process must be safeguarded and saved for future study. Responders should also keep detailed records of all actions and evidence gathered. When the attacker is found, this record will be critical in prosecuting them and ensuring that their actions do not cause further damage.
Incidents can take many different shapes. Some may be critical, while others may be less critical. An efficient incident response team will detect and investigate risks in real-time, saving time and money. An effective incident response team will collect data from monitoring tools, error messages, and intrusion detection systems. A competent incident response team will also be able to collect data from other sources, such as log files and firewalls.
Reducing the impact on operations
MDR allows your IT personnel to focus on more vital activities. You may improve your security posture and compliance, decrease operating expenses, and shift resources away from the reactive incident response by minimising time-to-detect and reaction. You'll also benefit from improved security and fewer rogue systems. Managed threat hunting allows you to detect and eliminate hidden threats while restoring endpoints to known good states.
To prioritise warnings, managed threat response (MDR) combines automated rules with the human inspection. This technology enables firms to respond to high-risk occurrences first while reducing operational effects. It shortens the detection lead time and lowers assault vectors. Managed MDR provides complete visibility into network traffic, including log data, cloud applications, and endpoints. MDR also reduces attacks to a bare minimum because it analyses network traffic in real-time.
Managed threat detection and response is a service that combines security professionals' knowledge with advanced technology. It enables enterprises to get visibility and correlate millions of data points to reduce the effect of security incidents. A managed threat detection and response solution also supplement an in-house security staff by delivering round-the-clock monitoring and analytics-driven SIEM. A managed detection and response service can assist enterprises in maximising the use of existing capabilities, optimising security spending, and gaining network effects from a more extensive customer base.
Cost
A managed threat response (MTR) service is not cheap. However, the advantages far exceed the disadvantages. This solution can assist a company in protecting itself from the most recent cyber-attacks. It has the potential to save businesses both time and money. MTR services are an essential part of any comprehensive cybersecurity strategy. But what is the price? Here are a few responses to this question. Let's look at some of the most critical cost factors.
MDR services are often less expensive than hiring an in-house security team. They can improve detection capabilities, give proactive defence intelligence, and provide insight into advanced threats. They can also shorten dwell time following a breach. MDR services can assist firms in meeting their compliance obligations by offering comprehensive stakeholder reporting and recording against a variety of standards and regulations. They can also aid in the prevention of breaches and the mitigation of their repercussions. Managed threat response services are inexpensive to address security requirements without incurring considerable IT overhead.
MDR providers can assist enterprises in reducing the costs and dangers of cyber-attacks by offering a comprehensive menu of security services. Among the services provided are higher-level analysts, cutting-edge security tools, and up-to-date global databases. They also stay updated on ever-changing cyber enemy techniques, assisting clients in protecting their systems. The pricing of managed threat response services varies depending on your selected service. You can select a service that provides a combination of these options.
XDR versus MDR
As network complexity and cyber threats evolve, many firms must judge which security solutions to implement. While MDR is a good solution for firms that lack critical in-house security skills, XDR can benefit organisations with mature but understaffed SOCs. We shall compare the features of each in this article. We'll also consider the advantages and disadvantages of each solution.
The fundamental distinction between EDR and MDR is how they operate. EDR uses endpoint detection tools to prevent malware from infiltrating a system. MDR use tools and technologies provided by the provider. A typical MDR service starts with a security assessment to establish your current security posture and potential risks. The service provider hires cybersecurity professionals to install the technology and serve as an extension of your team.
Furthermore, a managed security solution is an excellent investment for businesses that require 24/7 cybersecurity knowledge. Although MDR is a technological solution, it relies on a team of specialists to monitor IT assets and detect serious cybersecurity threats. Furthermore, it is less expensive than MDR services, which are often only available with a limited selection of tools. Furthermore, managed cybersecurity services can lower operational costs while improving overall cybersecurity.
The post Managed Threat Response – Its Components and Efficiency appeared first on https://typewriter-kl.com
The post Managed Threat Response – Its Components and Efficiency appeared first on https://gqcentral.co.uk