Domain Flipping For Beginners & What is an Expired Domain Name
Domain flipping is the art of buying a domain name for a low price and then selling it for a much higher price to a qualified buyer. You don't have to be a seasoned domainer (somebody who's entire business is buying/selling domains) to make money flipping domains. As a beginner, you can turn $100 into $1000 just by picking the right domains to buy and then selling them in the right places.
There are many reasons why flipping a domain name can be very profitable and lucrative for you:
domain names are low maintenance, you don't need to work on them or improve them before selling
if you know where to look you can get them very cheaply or even register a brand new domain to flip
there are so many potential buyers out there that if you have high-quality domains it's only a matter of time until someone purchases them.
More About Domain Flipping
If you want to start by learning what domain flipping is and how lucrative it can be for making money online, check out my collection of posts on the commonly asked questions of those new to flipping domains: those will give you the basics you need to start learning flipping, but that is just the beginning. If you want to flip domains successfully, reading a few articles and then going off to try is probably not going to work out for you.
What you need is a guide which walks you through the process, step-by-step, using the most simple and easy to reproduce methods possible. This is what my domain flipping guide provides for you!
Yes, you have to pay for it. The reason the guide is paid is that the techniques i use are actually not that well known and if i gave it away for free, everybody would be using them – which would ruin the method and make it harder to work.
Flip Domains or Flip Websites?
There are several ways to find ideas for good domain names. For instance, you can:
browse domains that are currently selling or have recently been sold at marketplaces and directories such as Sedo, Flippa, and Namebio. Look for expired/dropped domain names on websites like expired domains. Net or just dropped. Com. Analyze market trends and search queries to find potential domains that are likely to be more valuable in the future.
Aside from expired and short domain names, locally specific domains (the ones ending with. UK,. De, and similar extensions) can present great flipping opportunities for you that you don't want to miss out on. Not only are they valuable enough for you to sell them for a decent amount of money (people are always more fond of websites targeting their countries), but they are also specific enough for you to avoid a lot of competition and huge amounts of prospective buyers.
How To Buy A Domain Name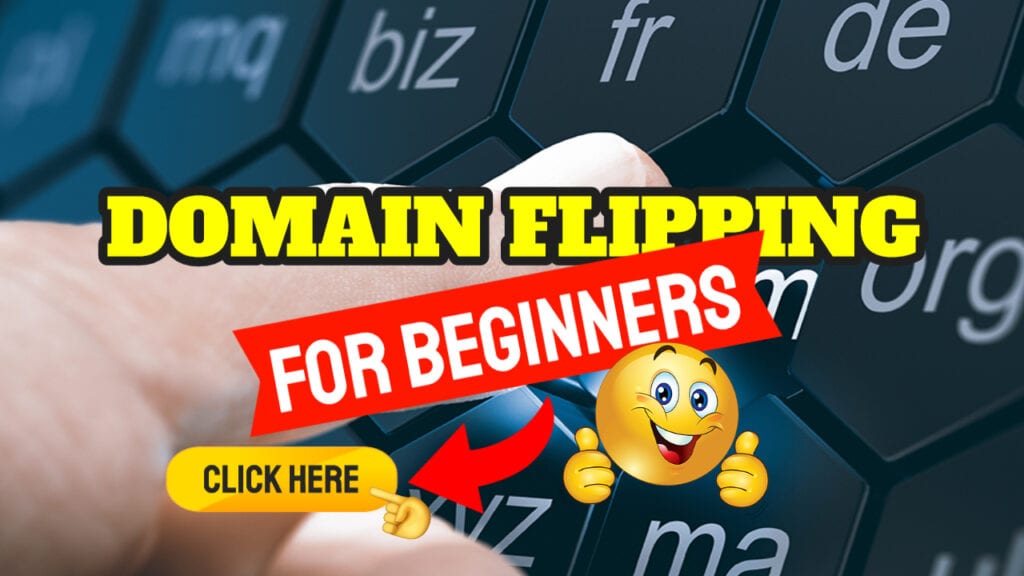 In theory, it is very easy to buy a domain for one price and sell it for a higher price. However, you need to know what type of domain name to buy and develop a good eye for names which will sell for a good price. Once you know how to find the domain names and figure out which ones are likely to sell, you will have no problem making $100s or $1000s every month.
Before we jump into the details of buying and selling domain names, let's first look at how much you can expect to make when you sell a domain. The market for buying and selling domains is big. Really big! in fact, over 300,000 new domains are registered every single day!
What happens is that domains get registered and used, but because you have to renew the domain name every year in order to keep it, many domain owners simply choose not to renew.
Where & How to Sell Domain Names
The best domain names can sell for millions of dollars:
hotels. Com ($11m)
insurance. Com ($35. 6m)
internet. Com ($18m)
while this is the absolute dream, the reality is that you won't be selling domains for millions of dollars (and you don't need to!)
take a look at some of these names and see if you could find similar types of domain names to sell?
hikingkits. Com ($205)
bargainbuys. Com ($2,150)
orders. Io ($750)
now, i don't know about you, but I know I could find domain names similar to those and sell them on.
There are many websites which aim to teach you how to flip domain names, but in my honest opinion, most of them have never flipped a decent domain in their lives. Their approach is to buy the domain from another seller, and then flip it on another marketplace to make their money. That's fine, but it's too much work for me. I don't want to rely on other sellers to get the domain names i need. I'd rather find them myself.
How To Buy And Sell Domain Names Wrap Up
By now you already know that buying and selling domain names isn't a piece of cake. However, many aren't aware that before all those purchases can take place you have to identify a high-potential domain name. This can honestly be quite a daunting task, especially if you're a newbie. And this is more important than what you might initially think because even though you might be convinced you're good at selling things, negotiating with people and wrapping up sales, there's much more to it.
So Where Do You Find Expired Domain Names
This is where you can make your money!
Domain names that have been used for a site, but have since expired, can be very lucrative. The reason for this is that they tend to have a lot of mentions online. If you find a domain that has expired which has links to it from good quality news sites, blogs, and social media sites, these are exactly the type of domain you can flip for a profit.
So the above was one way to find good potential domain names and register them for $10 bucks. As discussed earlier, there's also another way that's often used by the experts: buying expired domain names. So what are these other strategies anyways?
Domain Flipping Guide for Beginners
Tyskeen said:
hey guys, so i have done domain flipping for beginners for about 6 months now, and i can tell you that it can be pretty overwhelming for a "noob" to get into it. Beginners often think that whatever name they like, will be worth a lot of money. But the reality often looks different. In this beginners guide, I want to give you some starter tips on how to get your feet into domain flipping, so you can make your first profits asap!.
This is for sure an absolute guide on domain flipping for beginners and pros alike to help make a good profit off their time on the internet. – the domain flipping tips offered in our training can take one a long way into the million-dollar domain flipping business with high profitability.
So why flip domain names?
You should try my technique because I know exactly what it takes to flip domains and websites too – but that's for another day!. If you follow my advice properly, you should be able to make hundreds or thousands of dollars a month in profit, just from buying and selling a few domain names or websites.
While flipping a new domain name can be very profitable, domain buying and selling take some steps to do well. And to do right. Don't let terms like "domain registrar," "domain provider," or other similar terms scare you. We'll walk you through the step by step on how to locate domain names with potential, buy the right domain names. And hopefully make some really good money flipping domain names.
Is it easy to flip a domain?
There's nothing easy about domain flipping, unfortunately. Still, that doesn't mean it's impossible to flip domains successfully and make a decent amount of money. It just means that if you lack proper experience and don't know how things function in the domain flipping industry, it's going to take a bit more than just buying domain names randomly and finding how to sell them on google. It all depends on your skills and overall mindset.
Short domain names are a mixed bag for domain flippers. In general, the shorter a domain name is, the more valuable it is. That's because short domains are easy to type, easy to remember, and easy to market. If you can acquire a domain name of just a few characters, or a domain name with a short, common phrase, you can count on being able to sell it for a higher amount.
How much can you make flipping a domain name?
Only the most serious people will spend the money to learn these techniques. If you are serious enough to spend $697 for complete training on flipping domains for beginners, you will be serious enough to actually use the techniques and start flipping domains. I cannot guarantee that everybody buying this guide will make $100k a year but i can guarantee that if you follow the method as outlined you will make a profit flipping domains.
Why should I follow your advice to learn how to flip domains?
Just like any other field of business, you need relevant experience to become a successful domain flipper. Buying domain names and then selling them at a higher rate is not a piece of cake. You need to stay under the radar for at least a year and learn everything related to domain flipping before you can start selling domains for a profit.
For some, it's just another source of income or simply a fun way to make money, for others it's a full-time job. Still, it seems many are fascinated by the idea of making thousands of dollars by simply flipping domains. And if you've also heard about people making tons of money while flipping domains, you probably wanted to try it at some point too. Sure, it sounds quite appealing to make thousands of dollars quick off the mark, but if you don't know where to start or how to properly do it, not only will you not make any money, you can actually end up losing some of it too. Luckily for you you're in the right place if you want to learn how to do it the right way!.
The post Domain Flipping For Beginners – Guide To Success appeared first on EZI Gold.
The Article Domain Flipping For Beginners – Guide To Success First Appeared ON
: https://gqcentral.co.uk