It's one of the most important things you'll ever write, and you'll want to treasure it for years to come. Your wedding vows are a declaration of love for your partner and should reflect who you are as a couple. Don't be concerned if you're unsure how to begin. In this article, we'll show you how to write wedding vows that will make your partner swoon.

— Decide what type of vows you want to write
There are several types of wedding vows that you can write. Traditional vows, which are usually shorter and less personal, are an option. You could even write your own vows, which allows you to be more creative and share a deeper degree of devotion with your partner. If you're not sure where to begin, there are numerous internet resources to help you explore ideas and get inspired. It will be much easier to begin writing your vows after you decide what type of vows you want to write.
– Decide on a format for your vows.
There is no one correct way to write wedding vows, but there are certain broad guidelines to follow. Decide on the overall tone or feel of your vows first. Do you want them to be solemn and conventional? Are you amusing and lighthearted? Poetic and romantic? Once you've decided on a vibe, select a format that will allow you to express yourself in that manner. If you want to keep things brief, use bullet points or a list structure. If you're feeling wordier, try something more free-flowing. If you want to express yourself, try creating a poem or song. Whatever shape your vows take, make sure they truly reflect who you are as a couple – after all, this is your moment to impress all of your guests!
— Create a story about your companion.
It can be beneficial to begin writing your wedding vows by thinking about your partner. Make a list of everything you like about them, large and small. What distinguishes them? What do they bring to the table that no one else does? Why do you want to be with them for the rest of your life? Once you've compiled a list of attributes, you may begin putting them into vows. "I promise to always be there for you when you need me," for example, or "I vow never to take you for granted." Remember that your vows don't have to be extremely serious; they can also be hilarious or lighthearted. The most important thing is that they are genuine expressions of your love and appreciation for your sweetheart.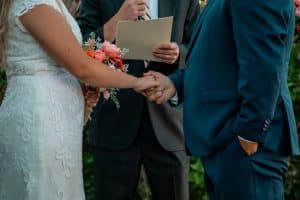 — Include personal anecdotes and stories.
When drafting your vows, it's critical to include personal memories and stories. This is what will distinguish and distinguish your vows. Consider the times in your relationship that were most meaningful to you. What did you take away from these experiences? What effect did they have on you? Utilize these stories to create passionate and unique vows.
– Keep things simple.
When drafting your vows, you don't have to go overly flowery or poetic – in fact, keeping it simple is generally ideal. After all, you want your wedding vows to be something you can remember and recite on the big day! Each sentence should be no more than 20 words long. You can also write in the present tense to make your writing more personal and intimate. "I pledge to always be by your side," for example, sounds far more forceful than "I shall always be by your side."
– Make it significant.
It is critical to make your wedding vows meaningful when writing them. After all, you'll be speaking these words to your partner on one of the most important days of your life! Personalize your vows to represent your relationship to make them truly unique. For example, you may include a narrative about how you met or a shared memory that is precious to the two of you. You can also use your vows to convey your love and dedication to one another. Whatever you do, make sure that your words are genuine!
— Practice, practise, and more practice!
Your wedding vows are a declaration of your love and dedication to each other, therefore they must reflect your true feelings. Writing personal vows, on the other hand, might be difficult – after all, how can you condense all you adore about your partner into a few sentences? The trick is to begin early and provide enough time for writing, editing, and practising. And remember to have fun with it! After all, this is one of the most important occasions in your life.
Writing your wedding vows is a difficult undertaking, but it is also an immensely beautiful and personal way to express your love for your partner on your wedding day. Keep it short, remember why you're getting married first, and practise reading them aloud before the big day!
The post How to write wedding vows appeared first on https://idcbrooklyn.org
The post How To Write Wedding Vows appeared first on https://gqcentral.co.uk